Enfield is recording basics on our second CD at Capitol Records this weekend. Follow our progress at yetanotherblog
---
John gets to preach for the first time tomorrow! Our fellowship group pastor, Rick Holland, is out of town this weekend, so he asked John to fill the pulpit. I'm so excited for the message! He just did a practice run for me and I'm already convicted. He's chosen Malachi 1 as his text and his title is:

"Three Symptoms of Apathetic Worship"

If you think of it, will you pray for him? - that God would use him to clearly communicate His Word, that he would be humble, that he would be transparent, and that hearts will be moved to repent of apathetic worship.
By the end of the week, you should be able to download the audio HERE. I highly recommend that you do!

---
It's nearly 1 am, but I had to give a quick update on Resolved Day 1. After a pretty hectic day of set-up, sound checks, monitor tweaks and rehearsals the band gathered for a refreshing time of devotions together before the first session. We're so thankful for our band chaplain, Gus, who will be leading us through several of the doxologies in the Scripture for our final moments of preparation before each session. We started tonight with one of my favorite passages - the Romans doxology in chapter 11. (Also one of my favorite songs by our friend, Steve Stuck) What a passage to bring our hearts and minds back from the busyness of the day to our purpose - we want to be worshippers of our great God.
O the depth of the riches of both the knowledge and the wisdom of God. How unsearchable His judgements, how unfathomable His ways. Who has known the mind of the Lord or who has been His counselor? Who has ever given to God that God should repay him? For from Him and through Him and to Him are all things. To Him be the glory forever. Amen. - Romans 11:33-36
After a refreshing and stimulating time in the Word and in prayer we walked together to the convention center for Session 1 of Resolved 08. As usual, the first session is high energy and exciting. It's an overwhelming experience to walk into a room (and by room, I mean airplane hanger!) with 3300 chairs, a huge stage, 3 huge iMag screens, an incredible sound system and some 50 robotic lights….. I mean just look at it!
The attendees were amped and ready to worship. People have driven and flown in from all over the US and different parts of the world (I was happy to see my college friend Liz, from South Africa!)
We opened the conference with the Resolved Trailer. I love this piece. John and the media team always do a fantastic job, but this trailer is definitely one of their best.
We're so excited this year to feature a string quartet with the band for both tonight's session and Saturday night's session. The players are not only fantastic musicians, but they're also godly and gracious people. Right out of the trailor Tim (the amazing 1st violinist), started our traditional opening song, Be Thou My Vision. John wrote the arrangment for the strings and the band. It was a lovely and lush, yet simple arrangement that really brought everyone into focus. From there we jumped straight into a great new, energetic arrangement of Crown Him with Many Crowns. Then Rick Holland came up to give the official welcome and some orientation instructions. He also gave away the first of several iPod Touch prizes with all the Resolved Media from the last 3 years! The band played 1 song from the new CD and then our set of 5 songs. We're playing with in-ear monitors for the first time this year and they're taking some getting used to, but the stage is still the best seat in the house as 3300 people sing at the top of their lungs great hymns to our great God.
Rick preached a sobering and motivating sermon from Hebrews 9:27-28 about the reality of death and heaven and hell. He pointed out that death is unavoidable and that judgement is certain. God is a just God and He cannot leave sin unpunished. The climax of the sermon was the last point where we saw that salvation is possible - that God crushed Christ for our sin and credited us who believe with His righteousness. Oh what a glorious gospel!
This is going to be a stimulating weekend as we focus our thoughts on joys of heaven and the mercy of being spared from the torments of hell. We're praying fervently that the Gospel would bear fruit this weekend and that any unbelievers that may be attending would not leave here unrepentant.
We closed session 1 with a short film that illustrates the parable in Matthew 13:44
The kingdom of heaven is like treasure hidden in a field, which a man found and covered up; then in his joy he goes and sells all that he has and buys that field.
Once again, John and the media team, in particular Adam Hildebrand, outdid themselves in producing art that is excellent and promotes the Gospel. I can't wait for you to see this piece!
Well, so much for a quick post….I better head off to bed. We're starting bright and early!
Stay tuned.
---
I just finished laying down sweet BGVs (thanks John and Brian!) for Alive in Christ. This song is a Ryan Foglesong original and is definitely competitive with Finally Home as my favorite. Alive in Christ made its recorded debut on the Chasing Cadence album Awake O' Sleeper. Which, by the way, is a fantastic album and highly recommended.
Read the lyrics of the first verse -
Awake O sleeper, the Lord is thy keeper
Arise from the grave to life unmarred
Stand firm your ground, take heart, you soldier now
The war is won but the battle's just begun
Now add some epic strings, electric guitars and rockin' drums and you've got a huge song!
We're now wrapped on the vocals for all 12 songs! We're going to spend the morning at Lake Tahoe tomorrow before heading to the airport.
---
This morning, June made a delicious breakfast casserole using her "farm-fresh" eggs (I believe the chickens' names are Darth Vader Frog, Do, Re and Mi)
Back in the studio, we jumped right in to What Wondrous Love is This? This old hymn can be traced back to the Appalachian Mountains at the turn of the 19th century. William Walker (1809-1875) was the first to include the song in his Southern Harmony and Musical Companion (1835). I love the lines -
What wondrous love is this
that caused the Lord of Bliss
To bear the dreadful curse for my soul?
Ryan and Brian's arrangement is fresh and powerful adding a contemporary chorus that gives us the opportunity to celebrate the wondrous love of Christ. The strings are strikingly cool and sophistocated. I can't wait for you to hear this song!
Right now, we're working on the title track for the album - O For That Day. Ryan really outdid himself on this song. It's a huge rock song that shouts about the day when we'll be with the Savior forever. Just read the chorus -
O for that day when our journey has ended
All of our hope found in Heaven's Reward
When we will have the Messiah forever
And we will dwell in the House of the Lord
Yes, we will dwell in the House of the Lord
Nate (4) came in to visit us and was very impressed by John's voice and by pictures of Fritz on my MacBook.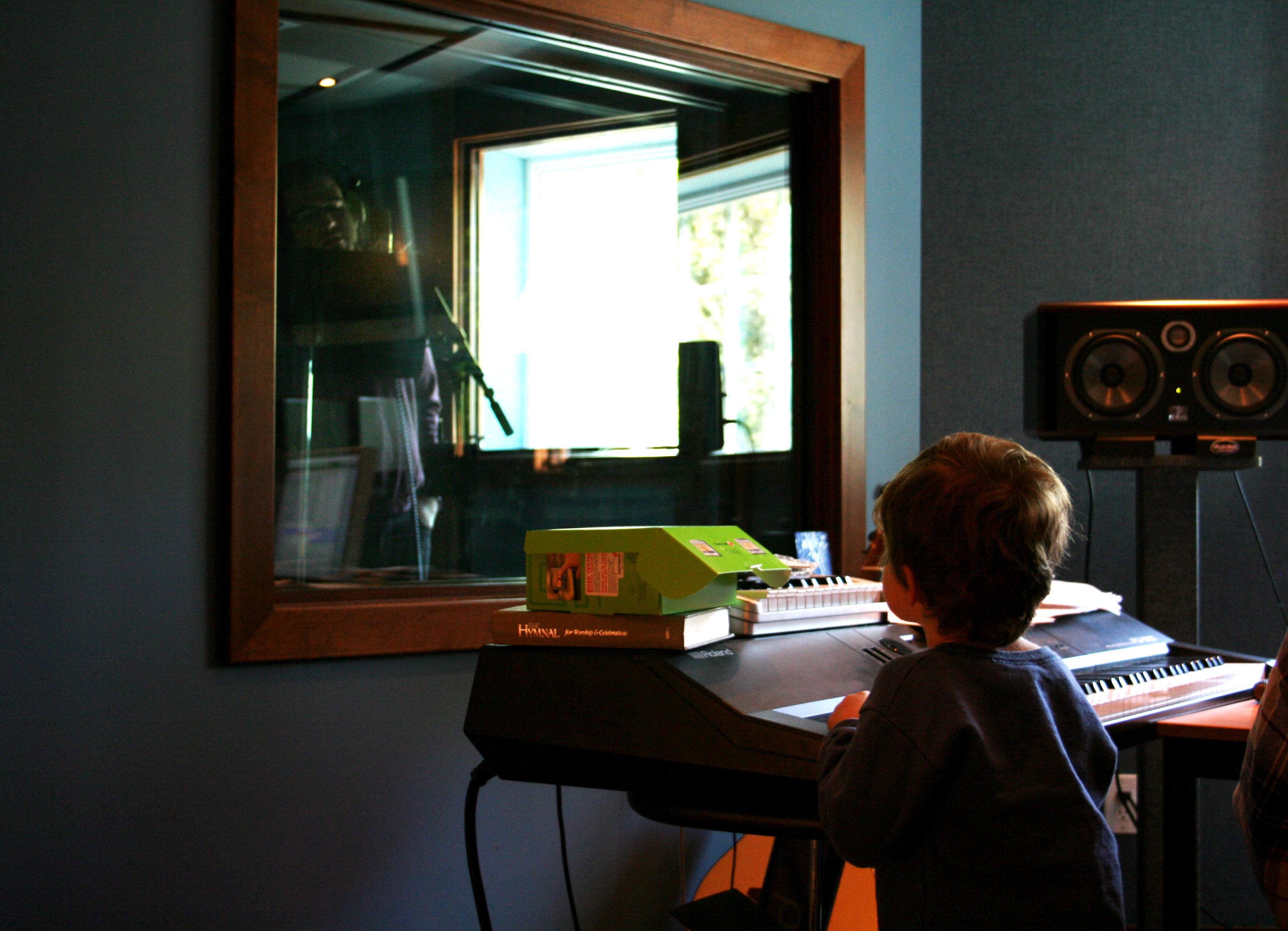 ---