GTY Cruise Day 2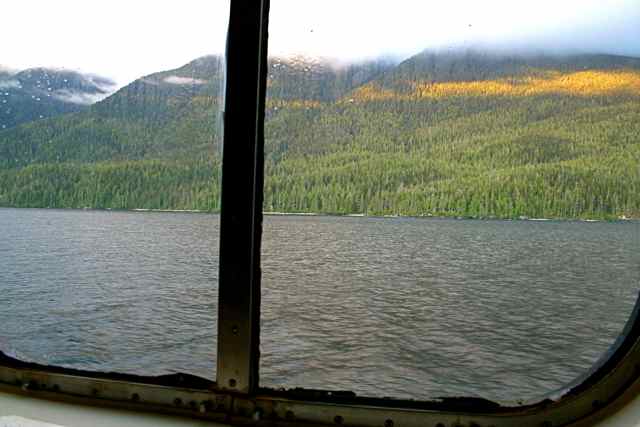 Very early this morning we navigated the narrow passage north of Vancouver known as the Seymour Narrows. Seymour Narrows is a 3 kilometers long by 750 metres wide section of water located 14 Km North of Campbell River and between Vancouver Island and Quadra / Maud Islands. We've been leaving our curtains open at night so that we can look out the window as soon as we wake up. This morning the sun rose at about 5:15 and I guess we were pretty tired because neither of us were up until almost 7. Though John was awake enough to snap this picture the rugged forests of the islands on the West side of the Queen Charlotte Straight.We woke up to the smell of eggs and bacon (hallelujah for room service!) and were already in the Queen Charlotte Sound. We're so thankful to have a room with a window - we could stare out the window for hours at the ever changing scenery.
The map above is the exact route our cruise is taking. Our first port of call will be tomorrow afternoon in Juneau, AK. Then we'll stop in Skagway on Tuesday and cruise through Glacier Bay (where I'm hoping to see some Orca whales!!) and finally on to Ketchikan on the way back to Vancouver.
Most of today we spent cruising though the Queen Charlotte Sound, which is as much open sea as we'll be in and we definitely felt the rock of the choppier water. No one in our group was seasick, that I know of, but there were several of us who felt dizzy.
There are about 300 people who are in the GTY group and 80% of them have us beat by about 30-40 years. We're enjoying getting to know some of them as we hang out on the ship. There are quite a few fascinating stories among them - even some who were saved through the ministry of GTY. The morning general session began at 9 with Kory leading several songs and Mark on piano/John on keyboard. Then Mark played a beautiful arrangement of He Hideth My Soul. MacArthur then opened up John 17 for us and expounded on the 1st section of the chapter where Jesus prays for His own glory. Tomorrow he'll jump into the 2nd section where Jesus prays for his disciples' glory. This is a wonderful prayer and I can't wait to get through all of it!
After the morning session we grabbed lunch at the taco bar and ate by the pool. Then we went up to the Crow's Nest lounge at the forward top of the ship. This lounge is filled with comfy chairs and is surrounded by large windows and a panoramic view. We must have spent 4 hours up there watching the ocean, working on photos and napping. Well, I napped alongside of my 60 yr. old buddies while John worked on editing our photos. That was the most relaxing time aboard so far. I kept my eyes peeled for whales while I was awake, but I'm pretty sure they're all waiting for me to turn away to do their flips and kicks. I'll catch them yet!
Our evening session tonight was absolutely fascinating! I mentioned before that we're priviledged to be on board with Colonel Jeff Williams, NASA Astronaut. MacArthur gave him the entire session to give a presentation about his 6 months on the International Space Station. This is definitely a highlight of the cruise so far. What amazing pictures and stories he has! It was really cool to hear his perspective about exploring and the things that he has learned about God by being in space. He was impacted by the macro view of the provision of God. Looking at how the earth is designed brought his heart close to the reality that our Creator sovereignly sustains and provides for us in ways that we so often take for granted. What a priviledge to see his presentation.
Well, I'm sure you're more interested in pictures than in stories, so here are a few from today! Hope you enjoy…
Stay tuned for Juneau!