The ms Statendam arrived at our 2nd port of call this morning in Skagway, AK. Skagway, est. in 1897, is known as the
Gateway to the Yukon. Gold stampeders came through Skagway on their way to the Klondike Gold Rush and just as quickly businessmen set up shop to sell supplies to them. The Canadian government set up regulations for the gold seekers that required every man to have a ton of supplies before he was allowed to head to the Yukon. We were told it would take an average man 40 trips to get all his supplies up the trail! Not very many stampeders made their fortune in the Klondike Rush, but many businessmen made a fortune off of them.
Today, Skagway is similar to how it would have been at the turn of the century, with some modern updates, of course. It is filled with shops making fortunes off of cruise ship tourists! Skagway is also known for the narrow gauge White Pass & Yukon Route Railway, which makes the trek into the Yukon much smoother.
We enjoyed a relaxing day walking around town and ended with a "walk" up the "lower" Dewey Lake. Sheesh! That walk was actually a pretty strenuous hike through sharp switchbacks and really steep inclines! The views were really nice on the way, but the lake didn't quite seem worth the exhaustion. Oh well, it was still a nice day.
We had another evening session singing and studying John 17 and then enjoyed a great meal together with our table friends in the ship's dining room. We're privileged to be seated with Mark & Jenny Rice and Bill & Holly Merrill. Our table spends most of the time laughing and talking and is usually one of the last to leave. We're really going to miss daily dinners with them!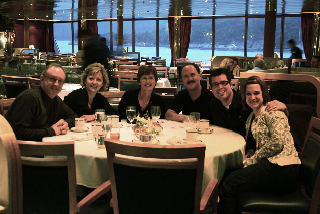 Stay tuned!